Announcing the 2023 Idaho Family Physician of the Year: Dr. Philip Petersen
The IAFP is thrilled to announce the selection of Dr. Philip Petersen, recently retired from Clearwater Valley Health in Orofino, ID as the 2023 Idaho Family Physician of the Year. Dr. Petersen was selected for this award by the IAFP Board of Directors for his exceptional work as a Family Physician for nearly 30 years, during which time he provided full-spectrum care, including OB care, mentored fellow physicians, and served in a variety of capacities in his community.
Dr. Petersen was nominated by his friend and colleague, Dr. Vanessa Brown, who shared the following details about Dr. Petersen with the IAFP Board of Directors:
"…When (Dr. Petersen) first started at CVH, he was only one of two-family physicians doing surgical OB. He is so beloved by his patients that he has delivered the grandbabies of the moms who first came to him when he started his practice in Orofino, ID.
In addition to caring for moms, babies and children, Dr. Petersen for the last 10 years has been medical director at the local nursing home, Clearwater Health and Rehab. During this time, he has helped the nursing home to become a regional standard of excellence. Dr. Petersen has also served on multiple committees, including 12 years on Idaho's Medicaid Pharmacy and Therapeutics, 4 years of which was as committee chairman.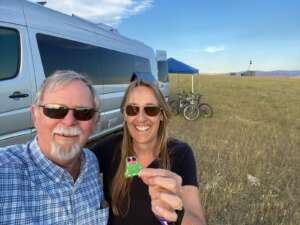 Dr. Petersen has also been a great mentor to the physicians in Clearwater County. In the last few years, CVH has been home to two Idaho Family physicians of the year. This is in no small part to Dr. Petersen. During his time at CVH, Dr. Petersen has helped to create a culture of physician learning, volunteerism, and development, as well as placing a strong emphasis on physician well-being."
The IAFP recognizes Dr. Petersen as the Idaho Family Physician of the Year for 2023 for his decades of service as a Family Physician in rural Idaho and his exemplary contributions to the profession. He will officially be honored at the IAFP 2023 Annual Conference at the Shore Lodge in McCall, ID, during the Awards Luncheon on Saturday, May 6, 2023.
IAFP Advocacy Award Recipients: Dr. Loren Colson and Dr. Caitlin Gustafson
This year's Advocacy Award recipients are Dr. Loren Colson of Boise and Dr. Caitlin Gustafson of McCall for their incredible work on behalf of Family Physicians and their patients to protect access to reproductive health care in Idaho. Over the course of the last year, Dr. Colson and Dr. Gustafson have been physician leaders focused on reducing risks to patients and upholding the physician-patient relationship in the face of government interference.
Both physicians received multiple individual and combined nominations this year. One of those nominations was from Dr. Crystal Pyrak, who shared in her nomination letter details about each award recipient:
"Dr. Caitlin Gustafson currently practices in McCall, Idaho, and is a full-spectrum Family Medicine physician.  She is seen as a leader in her practice and currently acts as the women's service line/perinatal director for St. Luke's McCall.  She practices obstetrics and has an unmatched passion for women's health.  She should be acknowledged for her efforts over the last year to identify laws that have restricted access to reproductive health, infringed on physician-patient relationships, and resulted in major safety issues for pregnant patients.  She has taken it upon herself to work with a legal team to open a case through the Supreme Court of Idaho to identify and fight these injustices.  She has done this in a particularly patient and articulate manner.  She understands the importance of every interaction and continues to educate physicians around her on major reproductive health topics one conversation at a time.  When her colleagues were asked why she deserved this award, multiple of her partners identified her "relentless compassion for the quality care of women that is unmatched" and she "often pushes boundaries to educate others on the evidence-based medicine standards in the world of reproductive health."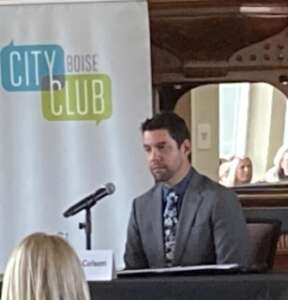 "Dr. Loren Colson is current faculty at Full Circle Health Family Medicine Residency in Boise, Idaho…Dr. Colson should be recognized for his multiple levels of involvement to respond to the recent legislation changes that limit reproductive health access in Idaho.  On multiple occasions, he has written public opinions and been interviewed on multiple media platforms outlining how these laws impact the safety of pregnant women and go against standards of care nationally.  He holds leadership roles on multiple state committees working to educate the population and our legislature on these issues.  He has led efforts to develop clinic-level protocols and improvements in care to maintain access and improve patient safety as able.  He is passionate, driven, and not afraid to have difficult conversations."
The IAFP wholeheartedly acknowledges and thanks Drs. Colson and Gustafson for their effort and commitment to the practice of medicine and patient safety over the last year. The IAFP is grateful for the continued opportunity to collaborate with these physicians and the rest of our members to ensure patient health and safety is a priority in state reproductive health policy.
The Advocacy Award will be presented to Drs. Colson and Gustafson during the Awards Luncheon at the IAFP 2023 Annual Conference at the Shore Lodge in McCall, ID, during the Awards Luncheon ad before they present on the Keynote Panel on Saturday, May 6, 2023.
Please join the IAFP in congratulating these exceptional Family Physicians for their leadership!